We've lost some good friends along the way. Here are articles we wrote about them...
Rose Alexander
THANKS FOR EVERYTHING, ROSE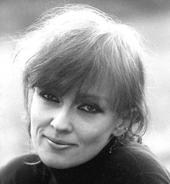 Everyone in Tacoma already knows about the passing of our dear friend and the best Girl Trouble supporter ever, Rose Alexander. Rose finally lost her battle with diabetes but what a battle it was. She simply would not give up...ever! She lost both her feet and many people didn't even know it. She handled that cane like a master. You never saw her complain. She never felt sorry for herself. She was always more interested in your problems than her own. She kept that wicked "Rose humor" right up until the end. Thinking of her still makes us laugh.
It's hard to imagine Rose is gone. She was our "Queen of Tacoma Misfits". Nobody was turned away at Rose's place. It started in the early 80s when the entire Tacoma punk/new wave community would show up at her mom's big old house on North G Street. Her mom would pretty much take in every stray too. That's where Rose got it from. Young punks like K.P. Kendall and Kahuna practically had a second home there. Everybody had a second home there if they wanted one.
Later, when Rose moved into the apartment she would live in for the rest of her life, the stream of people going in and out was impressive. Her parties were legendary. Not showing up was simply not an option. You didn't want to hear about all the fun you missed out on months afterwards. It wasn't Christmas without going to Rose's place, the same with Halloween. People you hadn't seen all year would be there. You could count on it.
And Rose was with Girl Trouble right from the beginning. She came to that first Battle of the Bands show we played in 1984. We could always count on her to show up and support us. There are a handful of people who have that status and Rose was definitely one of them. When we had a good show she was always there to cheer us on...and when we had a bad show she was always there to cheer us up (usually with one of her famous sarcastic wisecracks). She took great pictures of us too. She was a talented photographer. Even though she was having trouble walking we were so happy that she could make it to our 20th Anniversary show at the Crocodile. It was hard for her to stand with the crowd so we fixed her up in the side band room by the stage. There she could see everything without getting knocked down. She was the first person to give us a big hug when we got off the stage that night.
Our last show at the Swiss in August, Rose managed to show up. Of course her faithful friend (and the gal we most nominate for sainthood) Tracy Kelly was with her as usual. They were like the Dynamic Duo. Rose wouldn't have had the life she did without Tracy's constant care. We should all be so lucky to have a friend like Tracy. And as always, Rose had people coming up to her all night. That's the way it was with Rose. Everybody wanted to hang out with her. Sometimes you wouldn't even be able to get near her. She never stopped being the Tacoma scenester.
So this weekend Girl Trouble played one more show for Rose. Her friends in the Brown and Blues Band, the Plastards and Diesel Trucker played great sets. The music went on all night. On a Sunday afternoon the Swiss was packed with all us misfits that Rose had devoted so much of herself to. It was like a "Northwest Weirdo Convention" and Rose would have loved every minute of it.
We decided to play some of the old stuff that Rose would have heard us play at the Tropicana way back when. Everybody danced, and drank, and talked themselves hoarse. And when we were done we all wondered how we'd get together like this again? Afterall, that was Rose's job. Who could replace Rose?
Nobody.
Alan Wright
Bon Remembers Alan Wright...
We were shocked and saddened to learn that our friend, Alan Wright, took his life on Saturday (June 12, 2004). Alan and I went back many years when he was publishing Cryptic Tymes in Kingston, Ontario, Canada and I was making Wig Out magazine. We had a lot in common. He was drumming in the 14th Wray and I was drumming in Girl Trouble. In the days before email we actully wrote letters to each other and traded magazines. Alan was not only a supporter of ours in those early days but gave massive support to all struggling bands. He continued this throughout his (way too short) life. If you were in a band, you had a friend in Alan Wright. He even convinced me to write an article for Cryptic Tymes, one of the few things I wrote for somebody other than Girl Trouble.

It was a happy coincidence when Alan moved to Seattle. He was as cool in person as he was by mail. We would often hang out at shows either when he was on stage with the Primate 5 or we were playing that night. Alan was a sweetheart of a guy: always friendly to everybody, always had time for you, was always enthusiastic, especially when music was involved. Everybody knew him and everybody liked him. He had an awesome sense of humor. I can remember sharing a lot of good laughs with Alan.
When the art of letter writing fell by the wayside, we'd still keep in touch by email. In fact the last time we got into a big email discussion about our love of Ludwig drums. He gave me info in case I ever needed to restore my 1966 set. He'd gotten his 1965 kit done and was thrilled with how great they looked.
It had been awhile since we saw Alan. He was busy with the Earaches, his latest band, and we were busy with recording. When Girl Trouble played the Charles Peterson Book Release party at the Crocodile in October he emailed to say he'd try to make it there. He never showed up. I wish he had...
That's Alan in the middle in Conrad Uno's driveway at Egg Studios
Read what people are saying here
The Earache's official web site is here
George Montague (Woggles)
On tour with the Woggles May, 1999

R.I.P MIGHTY MONTAGUE

We are deeply saddened to report that Woggles guitarist extraordinare, George Montague Holton III passed away Monday, May 12th, 2003. This is a shock to us and everyone who knew him. George was an incredible musician and amazing showman but even more important, he was just a really cool guy. Everyone who was fortunate enough to see him perform will never forget him. The Mighty Montague was a rock and roll powerhouse. He never put on "half a show". With Monty it was all the way or nothing. He seemed to attack life in the same way and it was always a blast to hang out with him.

The Woggles are more than a band, they're family. We count ourselves lucky to have known George and privileged to have had the opportunity to play shows with him. We send our sympathy to Manfred, Patrick and Dan, and to all George's family and many friends and fans.

(More photos available here - scroll down to Going Going For It Summer Tour w/ the Woggles)
----------------------------------------------------------------------------------
REID DIAMOND
The Shadowy Men on a Shadowy Planet: Don, Brian and Reid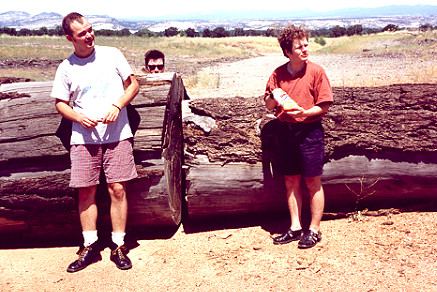 GOODBYE REID, WE MISS YOU (by Bon)
We have sad news. Our very dear friend, Reid Diamond, passed away on Saturday morning, February 17, 2001 from cancer. This was a devistating blow to everyone who knew him and Girl Trouble is included. As you may know from various Wig Out articles Reid was the bass player for the Shadowy Men on a Shadowy Planet and Phono-comb. We considered it a privilege to be able to tour with both bands. In that time we felt more lucky to count Reid as our friend. Even though we may not have seen him but every year or two, it didn't matter. When we got together it was like we'd seen each other yesterday.
When you tour with a band they become family. Reid was family. We will never forget his talent, generosity, sincerity, passion, warmth and humor. We admired Reid. He might have been slight in stature but he was a lion when it came to standing up to any injustice. He knew how to stick up for himself and the great thing is that he'd stick up for you too. You wanted Reid on your side when things looked shaky. I can remember many hours we spent trading horror stories about some shady deals both our bands had encountered. In a environment where you aren't quite sure you are making the right decision, Reid always made me feel like I wasn't the crazy one. I will miss that.
But even while this is such sad news we still can't think of Reid without smiling. He was a ball of fire and a great story teller. I think of having brunch with him on the ferry on our ride to Victoria, BC. I remember hanging out with him at the legendary Victoria band house, trading hilarious band stories and how he insisted we get the full Canadian snack experience by buying us a bunch of Old Dutch potato chip products. I'll never forget some of the long talks we had at Rebecca's place in Portland or the after gig motel party in Eugene when we played with Phono-comb. I'll never forget how he was so concerned about K.P. Kendall's health during our West Coast trip with the Shadowy Men and how they insisted they take us to breakfast because obviously we weren't eating right. We won't be able to think of tours on the East Coast, Eastern Canada, West Coast, British Columbia and even here in the Northwest without thinking of him. All our memories are good ones.
And for all those great memories I think not seeing him play will be one of the toughest. He was a delight to watch on stage. I know that every person who got to see him play live will understand what I'm talking about. It was hard to decide which was the better deal for us: hanging out with the Shadowy Men and Phono-comb or getting to see them play every night. He played like he was having the time of his life. You couldn't help but feel the same.
Several weeks ago I was watching re-runs of the Kids in the Hall and listening to that unmistakeable background music. Every time I watch that show I always wish we could get together with the Shadowy Men again. It's really gonna be tough to watch now. But still I am so thankful that we have so many great memories of Reid and that he left us such great music. Even though he's gone he will always be with us. We just loved Reid and we'll never forget him. He's still family.
Below are a few photos that our pal and Shadowy Men roadie, Derek Von Essen, took when we were all on tour together.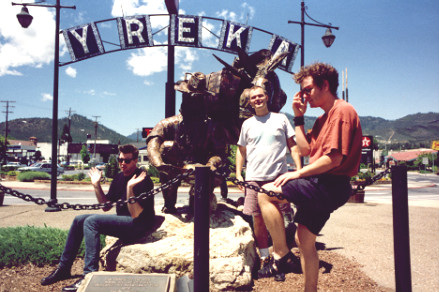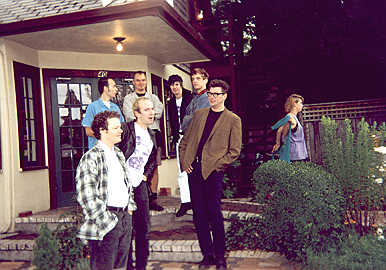 The boys hang out in Yreka (Brian, Don, Reid) and in Eugene, the Shadowy Men take Girl Trouble to breakfast (Bon took this photo - Reid's in front and that's Derek Von Essen in the blue shirt behind him).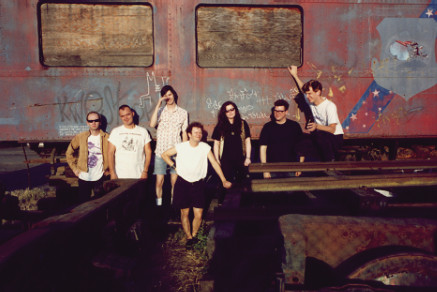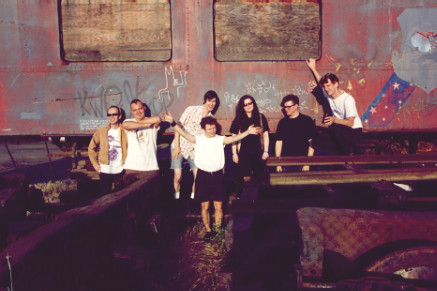 We get a groovy photo op in Sacramento by the Cattle Club: (It was about 110 degrees that day) That's Kahuna, Don, Dale,
Reid in front, Bon, Brian and KP
----------------------------------------------------------------------------------------------------
NICK VON ROBISON
Good-bye Nick, and thanks for everything...(by Bon Von Wheelie - July, 2000)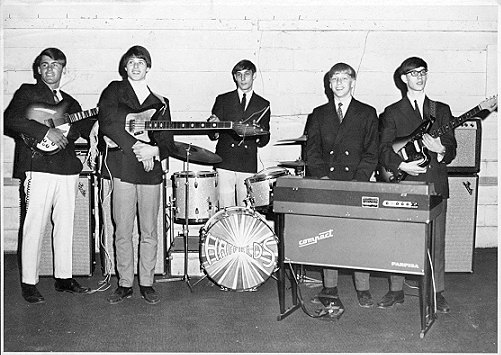 That's Nick on the far right with his band, The Hatfields in about 1966.
------------------------------------------------------------------------------------
We're making this special section to report a real sad thing that happened in July. Our very good friend Nick Von Robison died. It was self-inflicted. This was a serious shock to us all. Nick was the guy who first worked on this very web page because we sure as hell couldn't figure it out for ourselves. He did all that work for nothing. He liked Girl Trouble and he'd give us helpful tips about being in a rock and roll band. We paid attention to him because he'd been in a band himself , a 60s Cinncinati band called the Hatfields. They were supposed to be the companion band to the McCoys (clever eh? - I think Nick told us their manager thought of the idea because he was managing both bands). They had a couple of local hits on the prestigious Cha-Cha label and he wrote one of their hits called "The Kid From Cinci". The Hatfields even made it onto one of those "Back From the Grave" comps. I remember him telling us that one of the band members collected $50 for their contribution and he was still waiting for his $10. He did send us this awesome old promo shot of the band that I had intended to use when I asked him a bunch of questions. The trouble is I never got around to it. "Hey, Nick was a young guy. He wasn't going anywhere." That's how right I am. He did write a piece on the Hatfields only to tell me later that his recollections might be too sketchy so I shouldn't use it. Now I'm going to dig it out and print it anyway.
You may also know about the dreaded phone booth. The phone booth from Hell. The phone booth that was a cool idea that way too many people jumped on and completely ruined. They ruined it enough that it had to be removed. Its being there was wrecking the desert. It all started with Nick. Nick was an avid hiker. He'd pick himself an interesting spot and hike to it. One day he was looking at a map and noticed a spot on the Mohave Desert marked "phone booth". He couldn't pass that up. He had to see it for himself. Nick hiked to the spot and discovered that there was indeed a phone booth in the desert. He wrote a little piece about it for the Guild of American Luthiers web page saying "if you need to call a phone booth to nobody, here's the number". I thought that was just about the coolest thing I'd heard and I was short on interesting letters in an issue of Wig Out so I printed his story as a letter. I thought it was nice filler. A friend we'd met through Wig Out named Godfrey Daniels thought the story was cool too. He decided to call the phone booth. After weeks of trying he finally got somebody to pick it up. He transcribed the conversation on his web page. This led him and some of his friends to hike there themselves, camp out and take phone calls. That night we even tried to call Godfrey, since we were kind of responsible in a weird way for them being there in the first place, but we couldn't get through. That was a sign of things to come. Unfortunately it snowballed from there. Suddenly the phone booth was the "in thing". People from all over the world called it and bands stuck their stickers all over it and very quickly it was about as exciting as the phone booth down the street from my house. All these people were acting like it was something they came up with. Of course that's just the time when the Big Media Boys got wind of it. That's their specialty: doing hip reports years after the fact. The phone booth went national: It was in the New York Times. It was on NPR. It was on the NBC prime time news. It was sickening. And of course it was too big of a story to ever mention Godfrey or (Heaven forbid) Girl Trouble or the guy that hiked out there in the first place, Nick. We told him not to feel responsible. We've seen it happen over and over. Sometimes a real cool thing can go really sour when everybody jumps on it. It's a cool little thing that becomes totally out of control and out of your hands. The masses are good at stomping coolness right into the ground. Ask us about garage music. (Here's my personal FYI: If anybody needs a new phone booth to call there are a couple we discovered when we got lost in Detroit and Chicago that will curl your hair. I think you can call them but the receivers have been yanked off so it's going a bit difficult to get an answer. Let's camp out next to those phone booths to see who survives the night!)
So now the Mohave Phone Booth and Nick are both gone. I think we can live without the phone booth, but living without Nick will be another matter.
-------------------------------------------------
HASIL ADKINS R.I.P. We didn't know him but we sure miss him.